Teaser Tuesday is a weekly meme hosted by
Should Be Reading
. Pick a page and a couple of teaser sentences from that page to share.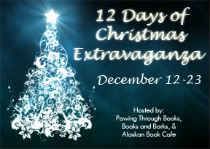 Today I'm going to spotlight Jess Haines, author of the H&W Investigations series. She is going to be one of the featured authors during the 12 Days of Christmas Extravaganza December 12-23. Make sure to check it out, as there's going to be several opportunities to win prizes and read interviews and guest posts by some spectacular authors! To find out more info, check out the event page HERE.
These teasers are from Jess Haines first book, Hunted by the Others. I absolutely love this series, and can't wait to read book four when it comes out next year. If you haven't checked them out yet, I definitely recommend you do!
"Hey, I hated vampires as much as the next human, but I wasn't about to go hunt one down like a crazy person and get myself killed. My job was scary enough as it was without adding angry vampires to the list of stalkers trying to get a piece of my hide to make up for the grief I caused them."
Kindle Location 85, Page 2
"His features were strong, as were those well-defined shoulders and taut, flat stomach I could see through the netted black shirt he wore. Those leather pants seemed painted on, showing equally muscular and painfully well-defined legs. He was, dare I say, devilishly handsome?"
Kindle Location 349, Page 24
"Alone in his office. Alone with a vampire. Oh God, I'd checked out his butt!"
Kindle Location 383, Page 28